Very few celebrities believe in human charity and legit raise their voice for the cause. Zayn Malik surely is one of them and publicly shares her views on poor children living in poverty.
Former One Direction singer wrote a letter to the newly appointed UK Prime Minister to "give all children living in poverty" a free school meal. In a letter to Rishi Sunak, the ex-One Direction star says he relied on free school lunches as a child in Bradford.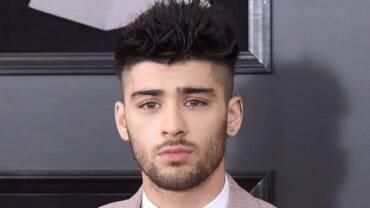 Zayn shared his letter on his official Instagram page with each and every detail he wanted to share with Rishi Sunak.
Zayn Malik's Letter To UK Prime Minister
"I am writing to share my concern about the struggles children are living through because of the cost-of-living crisis and to ask for your help to ensure no child living in poverty misses out on a hot nutritious meal at school, especially since that school meal may be the only hot meal they receive all day," he shared.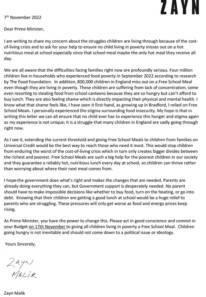 Malik went on to add, "We are all aware that the difficulties facing families right now are profoundly serious. Four million children living in households experienced food poverty in September 2022 according to research.
In addition, 800,000 children in England miss out on a Free School Meal even though they are living in poverty."
Children Are Suffering!
The 29-year-old Zayn broke up with Gigi Hadid and plead guilty to harassment charges against her.
He further highlighted more sensitive points, "These children are suffering from lack of concentration, some even resorting to stealing food from school canteens because they are so hungry but can't afford to buy lunch. They are also feeling shame which is directly impacting their physical and mental health."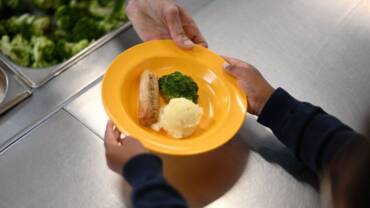 Speaking from experience and his difficult childhood, Malik reflected, "I know what that shame feels like, I have seen it first-hand, as growing up in Bradford, I relied on Free School Meals. I personally experienced the stigma surrounding food insecurity.
My hope is that in writing this letter we can all ensure that no child ever has to experience this hunger and stigma again as my experience is not unique; it is a struggle that many children in England are sadly going through right now."
You Have The Power To Change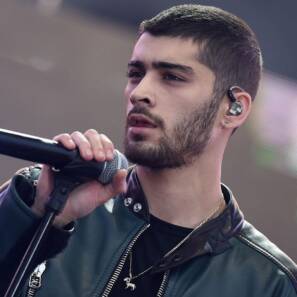 Zayn concluded his letter, "These pressures will only get worse as food and energy prices keep rising. As Prime Minister, you have the power to change this. Please act in good conscience and commit in your Budget on 17th November to giving all children living in poverty a Free School Meal. Children going hungry is not inevitable and should not come down to a political issue or ideology."
For the people who don't know, Zayn Malik is the new famous face in the social free school meals, joining England football star Marcus Rashford and celebrity chef Jamie Oliver.
What do you think of the story? Tell us in the comments section below.