Local police said that at least 36 people were killed and several were injured in Greece train accident.
Greek Train Accident On Tuesday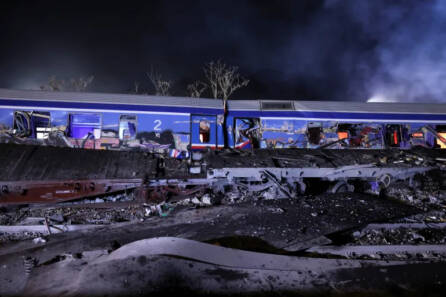 A passenger train travelling from Athens to Thessaloniki collided with a cargo train travelling from the northern city late Tuesday outside the central city of Larissa.
The crash caused some of the passenger carriages to burst into flames.
The passenger train left Athens at 7.22 p.m., according to rail operator Hellenic Train (19:22 GMT).
At least 66 people were injured in the incident, with six in serious care, while about 250 passengers, some with minor injuries, were safely evacuated by bus to Thessaloniki, about 130 kilometres (80 miles) away.
Medical units used to treat burn victims in the region had been informed and scores of ambulances dispatched to the scene.
"We heard a loud blast, (it was) 10 terrifying seconds," said Stergios Minenis, a 28-year-old passenger who leaped to safety from the wreckage.
"We were flipping around in the waggon till we collapsed on our sides… Then there was panic, cables (everywhere) on fire, the fire was quick, when we turned over we were being scorched, fire was right and left."
Greece President On Train Accident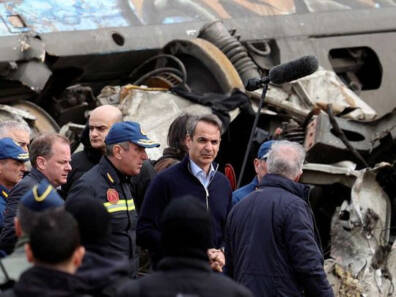 Greece Prime Minister Katerina Sakellaropoulou has announced that she will cut short her visit to Moldova in order to return to Greece.
"Unfortunately, I had to interrupt my tour in order to be near to my people, to support those who need it," she said at a joint news conference with Moldovan President Maia Sandu in Chisinau.
According to Thessaly regional governor Konstantinos Agorastos, the two trains collided on the same track.
"They were travelling at high speeds, and one (driver) had no idea the other was approaching," he continued.
The incident derailed the first four carriages of the passenger train, with the first two carriages, which caught fire, "nearly completely destroyed," according to Agorastos.
See More: In Sukkar city of Pakistan, 20 Killed, Several Injured Train Accident
What do you think of the story? Tell us in the comments section below.